Deadly new organisms, resistant to all known antibiotics, are emerging all over the planet and gaining ground FAST...

Keith Scott-Mumby MD, MB ChB, PhD
On the cutting edge for nearly 40 years!
It's over!
The truth is, the comfortable world as we have known it for the last 60 years is coming rapidly to an end. Bacteria are deadly and the short period of time where we were able to control them is vanishing fast. Even as you read this, a new strain could be emerging somewhere, just a handful of resistant germs; but because of their fantastic power of multiplication (doubling every 20 minutes or so), that new strain could be all over the Earth within months, or even weeks.
You've heard of MRSA, everyone has heard of MRSA. But if you don't know...MRSA is a deadly staph infection. It now kills more people than AIDS and is gaining ground fast. It doesn't require unusual sexual practices to spread; with the latest strain you can literally inhale it at your local club or supermarket. Many people did so and died rapidly as a result.
In 2009 a virulent new strain of MRSA emerged, that is FIVE TIMES more deadly and kills 50% of its victims.
But it's not just MRSA. Now we have VRE (vancomycin-resistant enterococcus), which is far more deadly than MRSA (100% fatal septicemia) .
Also we now have PRSP (penicillin-resistant Streptococcus pneumoniae). It is reported that out of 100,000 hospitalizations for pneumonia, 40% are now due to this organism!
Have you heard of Vibrio vulnificus? It's a deadly little bacterium, common on the beaches of the USA and elsewhere. If it gets in through the tiniest skin cut, it can kill you in hours.
And don't forget, resistant syphilis is back on the loose. Syphilis (Lues) was one of the most feared of all diseases for centuries and kept young men and women in terror of the act of sexual union. It cast its dark shadow over saints and sinners alike and many a creative genius was snuffed out by its chill wind (Christopher Columbus, King Henry VIII, George Washington, Frederick Delius, Hugo Wolf, Henri de Touslouse-Lautrec and Scott Joplin all died of it).
Our old enemy TB is on the prowl too, with a new strain which is classed MDR (multiple-drug resistant).
In Germany in the summer of 2011 a deadly new strain of E. Coli emerged, that is highly resistant to antibiotics and killed hundreds in Europe on it's unstoppable rampage.
If you are not worried about this deteriorating position, you should be. False reliance on drugs and pharma medicine has proven to be a weak strategy: the game is LOST!
The Truth Is: You can't hold back bacteria. They are too overwhelmingly numerous and powerful. Bacteria are EVERYWHERE. Your own body, incredibly, is 10% bacteria by dry weight.
---
But there is GOOD news...
In the days before antibiotics not everyone died of their infections. There were scores of great, workable non-drug solutions to infections. These remedies still work!
You need to get to know them, get re-acquainted with our folklore and natural heritage again and fast. You never know when the next outbreak will sweep your neighborhood.
There are also MANY modern developments, some of which will eclipse any reliance on antibiotics altogether. We now have electronic machines capable of destroying bacteria and other pathogens.
It's important to strengthen your immune defences. But you also need to go on a short education course of learning what your antibiotic-alternative options are.
To make it easy for you, I've compiled a comprehensive report of all the suitable alternatives, with scientific studies to support them. You'll be amazed just how many humble home remedies and plant-based solutions have been studied scientifically and demonstrated to work effectively. There are scores and scores of them!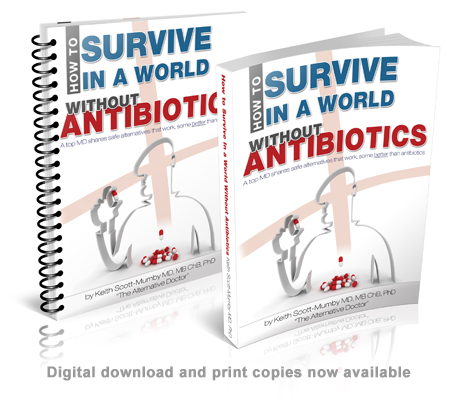 PLUS, I have given you lots of very modern possibilities that were not even dreamed of in the era before antibiotics.
click here for offer details and to purchase
---
Antibiotic Overuse.
You probably know that one of the reasons we have antibiotic resistant bacteria threatening our very lives is that these wonder drugs have been overused. Doctors are partly to blame. But did you know that the MAIN problem comes from farmers abusing antibiotics, administering them to livestock to keep them "healthy" while raising animals in cruel and unhygienic conditions?
This continuous feeding of antibiotics naturally creates resistant bacteria, which come to us in our food and so the problem is spread widely and uncontrolledly. Yes, doctors don't take enough care in what they prescribe. But agriculture and the farming "industry" is probably the biggest culprit and the one that threatens your children the most. 70% of all antibiotics in the USA, for example, are fed to healthy chickens,pigs and cattle.
Unquestionably, sensible people don't want to use antibiotics at all. So we should use other remedies first and only fall back on antibiotics when the threat is very serious.
You can serve your community well by learning what to do INSTEAD of antibiotics. Strangely, natural remedies don't seem to create resistant strains. You can use them freely and with good effect, yet not store up serious problems for the future.
Did you know a certain color light kills bacteria? Fresh air and sunlight are very healing, as every Mom knows. But laboratory testing puts it on a firm footing, showing that one color in particular blasts organisms dead.
Honey works well. Patients with MRSA have been emailing their wild success. But really one particular brand of honey from one particular corner of the planet is the magic I recommend.
You can inject a substance that would burn holes in the carpet straight into a human vein. It produces an overwhelming immune response and has brought some patients back from death. You think I'm crazy? I've done it to myself MORE THAN ONCE when a severe infection supervened and I'm not crazy—it works every time! (I don't ask patient to accept anything that I wouldn't do to myself).
The best answer of all is not to get infections. I haven't had even a cold for over a decade and I'll share with you the big secrets of how I stay so healthy, even in my 6th decade.
This is an education, not just a book. You need to get this learning NOW before it's too late. In the course of time you will be looked up to as a wise person who had the foresight to think and plan ahead and learn the new rules before the referee's starting whistle!
Act NOW! Believe me, in the heat of a crisis, with someone you love slipping away before your eyes, is not the time to start Googling to see what your alternative options are!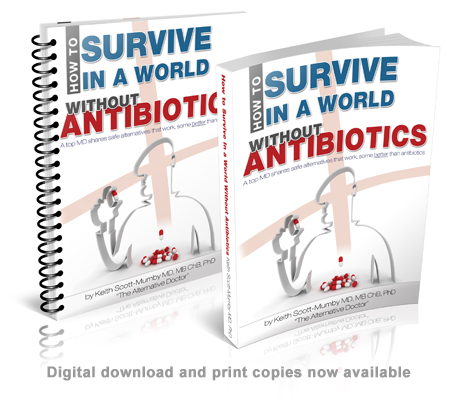 click here for offer details and to purchase
---
This report covers EVERYTHING you need to know, from soapy water and drawing salves, through scores of fine natural remedies, to an array of PROVEN herbs and oils, to sophisticated modern devices that can blast microbes to smithereens, without harming a single cell in your body.
Some of these alternatives perform BETTER than antibiotics. For example, one plant extract (you can drink the infusion) has better antibiotic properties than tetracyclcine and vancomycin, according to a full scientific trial. Vancomycin is acknowledged as the "last ditch" antibiotic that may (or may not) save someone with MRSA.
In "How To Survive In A World Without Antibiotics" you will learn:
Understanding bacteria and their formidable properties. Some really stunning statistics will shock you.
Why we NEED certain bacteria and how the friendly ones help us.
The role of herbs--some work sensationally well and always have done (not Echinacea, by the way!) I list lots of these and tell you the science.
There are inorganic chemical substances, like colloidal silver, hydrogen peroxide and MMS that work well. But did you know there is an incredible injection of a common acid that works wonders when the patient is down and near to death... It revives the immune system, like the laying on of divine hands!
Light is a powerful antibiotic. Blue light kills MRSA! Another form of light kills just about everything; has been around since the early 20th century; is cheap; effective; FDA approved and yet you probably never heard of it (they don't want you to!)
I'll tell you about the "antibiotic vitamin" (no, not vitamin D, though D is good!) Large doses of this wonder vitamin turned 100% fatality in women with childbed fever into 100% survival, all in the years before antibiotics! What's more, there is proof, in what is certainly one of the first EVER modern scientific studies, published in one of the world's leading medical journals (1930).
There are mushrooms and fungi too. That's appropriate, since most antibiotics are also fungi. But these are natural fungi and DEADLY for bacteria. Some are such POWERFUL boosters to the immune system, they have been taken over as chemo agents for beating cancer.
Did you know essential oils are super-antibiotics? These were probably the best antibiotics we had before penicillins. Lavender oil heals like Neomycin ointment! All kinds of dangerous infections have been beaten by the application of essential oils.
I'll introduce you to a cheap and plentiful "autovaccine" that comes from down on the farm; is made in New Zealand and in 3rd world countries is a safe and cheap alternative to modern vaccines.
The world's most abundant "antibiotic": it's everywhere on planet Earth, comes from the oceans and really works! It's the longest-standing pharmaceutical we have (it was in the French pharmacopeia for almost a century) and saved 100,000s of lives in the century before modern drugs. It's price is RIDICULOUSLY cheap! (and, yes, the FDA allows it's importation)
I'll teach you some simple homeopathy, explain how and why it works and give you some key pointers. Homeopathy would be my FIRST CHOICE in many situations of serious or dangerous infections. These simple, very safe, remedies worked a century ago and they work today. In a major outbreak of diphtheria in Glasgow, Scotland, just after WW2, children treated with homeopathy all survived; 50% of those not treated with homeopathy died of this disease. The British Royal family still swear by homeopathy and they seem to live on and on!!
There's that Russian device (SCENAR!) and I'll explain how it works and how to use it. You also get a bonus "lesson" on this from two of the world's leading SCENAR practitioners.
Talking of Russia and Eastern Europe, there's an amazing alternative to antibiotics that's cheap, works well and has been kept alive there, since the 1920s. It hasn't gone away and it may be our BEST BET for the future, now that antibiotics are done...
Finally, and obviously, I cover probiotics in depth. But also PRE-biotics and an amazing new, proven treatment that you wouldn't believe; let's just say it's transplanting sh*t form one human to another. Yes, they do it in orthodox medicine and it saves lives when the patient has deadly membranous colitis, after way too many antibiotics (published studies to prove it).
You need to know this stuff!
Get your copy of this sensational and much-needed report today...
Here's the deal:
Downloadable INSTANT digital copy (you can be reading it in just a few minutes from now):
$39.95
but you can have it for just
$29.95!
OR take the printed copy. Same price ($29.95) but you will have to pay shipping, extra. Again, that's just:
$29.95
Or finally (best choice), you can have BOTH for just $10 extra.
Just $39.95!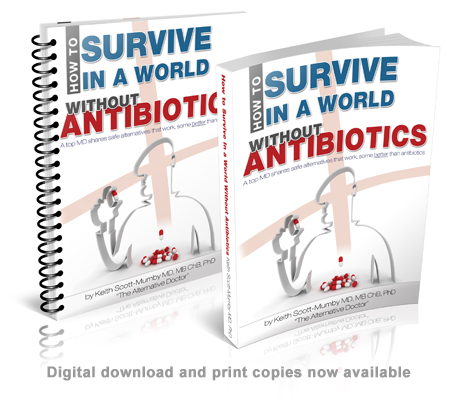 Click here to order BOTH copies of this important new book:
just $39.95
You can use PayPal inside the shopping cart
---
PLUS, you get the following amazing FREE bonus audios:
Hear Prof. Keith interview 3 top experts in the field of alternative and preventative medicine tell you what THEY would do to protect themselves in the event of a world without antibiotics.
Dr Garry Gordon MD, DO, MD(H)

Internationally-recognized alternative medicine expert and originator of oral chelation therapy. Listen to what he would do to avoid infections and why you should do it too!

Joel Wallach DVM, BS, ND

Always renowned as the originator of the "Dead Doctors Don't Lie" tape! Dr. Wallach brings vast nutritional knowledge to bear, with surprise facts that will literally amaze you!

Thomas Levy MD, JD

Lawyer, nutritional MD and a cardiologist, Dr. Levy is one of the world's top holistic doctors and wrote a seminal book on vitamin C miracle IV therapy for life-threatening infections.
Total running time, 90 minutes
These are downloadable MP3 tracks for podcasting
Value: $27. YOURS FREE
Yet another helpful bonus:
For being smart and taking the step to protect yourself and your loved ones, I'm offering one more extra bonus. You can have a FREE copy of a complementary short report I prepared called
"10 Alternative Remedies For Viral Infections"

It perfectly complements the antibiotics eReport and will further protect you and your family against future infections.
Value: $17. YOURS FREE
An amazing healing tool for even the most severe and dangerous infection...
Listen to me interview world-class SCENAR experts John and Lorraine Hache about the power of this unique Russian device to kill off infections FAST.

This remarkable device is described and recommended in the antibiotics eReport and will further protect you and your family against future infections*
Value: $25.00 YOURS FREE
*statements such as this have not been approved by the United States FDA (the device is registered in the USA for a different use). These restrictions do not apply, of course, to the rest of the world.
What is the cost you pay for these two truly life saving reports and the three exceptional audios?
Downloadable INSTANT digital copy (you can be reading it in just a few minutes from now):
$39.95
but you can have it for just
$29.95!
OR take the printed copy. Same price ($29.95) but you will have to pay shipping, extra. Again, that's just:
$29.95
Or finally (best choice), you can have BOTH for just $10 extra.
Just $39.95!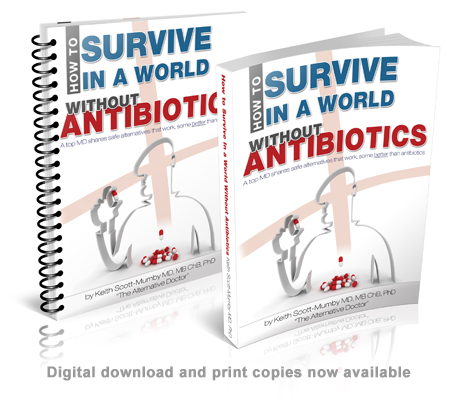 Click here to order BOTH copies of this important new book:
just $39.95
You can use PayPal inside the shopping cart
| | |
| --- | --- |
| | Don't wait. You need this information NOW, before anyone falls sick and you're told "It's a resistant strain". This is a learning process for health, not just a report. |
---
privacy policy | disclaimer | terms of service | contact customer service